Creating a website from scratch is a time-consuming task.
Webpages are mainly 'coded' in three programming languages:
'html', which creates the general structure of the pages, where images are stored, where links will take the user, etc

'Javascript' to increase the functionality of the pages

'stylesheets' (css) to get the layout, text size, colour, etc just as you want it - eg this bullet-pointed list which, without css, would have green bullets and text or black bullets and text, but not the green bullets and black text which I wanted. Using css, you can get your pages looking exactly how you want them ... but it can be very arcane!
It is this programming which takes the time.
Anyone can knock up a website in Microsoft FrontPage in a week or so (and, believe it or not, an alarming number of 'professional' web designers use FrontPage!) but, if you want it just right, you have to roll up your sleeves and get into html. And, if you want your website to work really well, you'll have to master Javascript and css.
This is where the skills of an experienced website designer are absolutely invaluable.
A website can, and should, be your major marketing tool ... but only if it's
well-designed
,
works well
and - crucially -
looks professional
.
---
And that's where I come in - with a degree in Maths & Computer Science, a background in traditional computing, an eye for form and colour, extensive expertise in art marketing (both on and offline) and a near-obsessive (!) attention to detail, I am the ideal choice to design your art or designer craft website.
---
So what about those prices? My charges start at £195 and might go up to well over £2000 for a complex site. Just decide on your budget, look at the prices below and with any questions.
It can seem like a lot of money to spend, but think what you get:
a studio-gallery open to the world, promoting your work, 24 hours a day, 7 days a week, allowing you to reach potential clients worldwide;

a full-colour promotional brochure, which can be updated at any time and at a fraction of the cost of printed material;

an opportunity for all your clients and, more importantly, potential clients to look at your work whenever they want;

the ability for anyone thinking of commissioning work from you to fully familiarise themselves with your work, before making the visit to your studio.

More than
half a billion people worldwide
use the internet, including a massive
30 million people in the UK alone
(source - Reed Elsevier), representing around 64% of the UK population (estimate based on the Government 'UK Online' report, December 2003) - a figure increasing by about 5% per annum.
Can you afford to miss out on this enormous potential market?
And it's now the case - for better or worse - that, in order to look professional, anyone running a business
needs
to have a website.
When you choose me as your website designer, you are hiring not just my expertise, professional approach and attention to detail, but my extensive experience and knowledge of the art and designer craft market - both on and offline.
I look forward to working with you.

---
Detailed prices
Note that the 'package' prices shown below are for websites with a fairly simple layout and design. Obviously, the word 'simple' can mean different things to different people, so if you have a special type of page design in mind (perhaps you've seen a website you particularly like the layout of?), I may have to charge extra for the graphic design and detailed layout work involved.
Similarly, if your site will require any of the following:
the facility to change the content yourself, without my involvement

the facility to enable your visitors to sign up as 'members' and manage their own user accounts

the use of 'databases' of products, news items , etc, with the ability for you to add, modify and delete these yourself

'e-commerce' facilities, ie selling products/services online
I will charge for the work at my normal hourly rate of £45, having first given you a quotation for the project.
Just to email me with your ideas and I'll be able to get back to you with a quote.
---
Option 1 - Basic single web page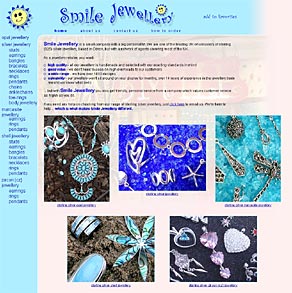 For those who just want to get something up on the web quickly. A basic page on a white background, with plain text and without design enhancements.
One web page with up to 4 images and text up to about one side of typed A4.
This might include, for example: Artist's statement, CV, images of some recent work (including titles, sizes and prices), photograph of the artist (if desired!) and full contact details.
Cost - £195, for design & creation
Option 2 - Fully-designed single web page
More popular than the basic page, this is a fully-designed web page, with design enhancements which take into account your own design ideas, colour scheme and 'feel'. Ideal for future expansion into a multi-page site.
One fully-designed web page, with up to 4 images - clickable to show enlargements - and text up to about one side of typed A4.
This might include, for example: Artist's statement, CV, images of recent work (including titles, sizes and prices), photograph of the artist (if desired!) and full contact details.
Cost - £397, for full design & creation
Option 3 - Multi-page website (standard price)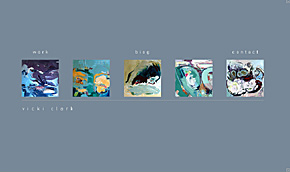 A fully-designed web site with design enhancements taking into account your own design ideas, colour scheme and 'feel', plus your logo (if you have one). The design flows through the site, producing a completely integrated look
Up to 6 pages, showing images of up to 20 pieces.
Comprising:
Index (main) page, with up to 4 images (possibly details?), brief artist's statement and (if desired) a photograph of you or your studio.

'About me' page (CV & artist's statement + brief exhibitions list), with up to 2 images of you and/or your studio.

Contact page (giving address, phone no & email address + link to map showing your location)

Gallery summary page, showing small (not tiny!) 'thumbnails' of up to 2 images of representative work, with each image linking to:

a Gallery page (up to 2 of these), each page showing thumbnail images of up to 10 pieces, including title, size, medium and price for each piece + clickable link on thumbnail image to display a larger image (with no additional text).

Cost - £1170, for full design & creation
Additional charge for extra pages
Whilst either of the above options should be sufficient for most purposes, there is a possibility that you might feel you need additional pages, which would be charged as follows:
Additional text page with no images (perhaps for a detailed list of exhibitions) -

£95



Additional A4-length text page with up to 3 images -

£139



Additional Gallery page with up to 10 images, linking to enlargements

- £209



Enlargement page with more details about that piece, eg inspiration, methods, etc -

£29



Option 4 - Non-standard multi-page website
If you would like something between
Options 2 & 3
shown above, my charges would be as follows:
Initial design charge, to include a page as per Option 2 above -

£397



Other pages - as shown above (under 'Additional charge for extra pages')

minimum three pages

So, a nice little three-page site, with an introductory page (incorporating artist's statement, CV, exhibitions and contact details) and two gallery pages (showing images of 20 pieces) might cost:
If you have any questions at all - about any or the above - just to email me, or ring me on 01305-871561
---
What is included in these web design prices?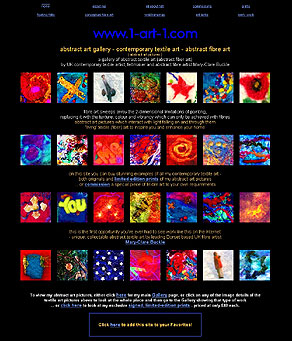 processing and enhancement of images supplied on CD-ROM, including preparation of the images for optimal presentation on the web (note that, if images are not supplied on CD-ROM, there would be additional charges for scanning and manipulation)

text proofreading - vital to ensure a professional look

ensuring that your site works on all major browsers - a point which is extremely often neglected by web designers, but which I think is vitally important

up to 10 different email addresses (eg sales@, enquiries@, yourname@, emaillist@, etc), each of which is forwarded to an existing email address

submission of website to all major search engines

email hiding, so that spammers can't get hold of your email address

'slide-down' publicity box (if desired), to encourage your visitors to put their email address on your email list

What is not included?
Hosting charge (see below)

Updates, once the site has been completed, approved by the client and is live on the web (see below for charges for updates)

Online payment facilities: this would have to be arranged by you separately (with advice from me) and would cost about £300 for a setup charge and then about £200 per year.

However, another possible option is to use PayPal, the most widely used online payment facility (used extensively on the online auction site, eBay). This is completely free of charge to PayPal (except for the transaction processing fee of around 6%) and I would be prepared to include this facility on your site for an additional charge of

£97

. The advantage of this is that you can sell online, whilst the disadvantage is that it looks a little unprofessional - but is definitely worth considering.

Website hosting charge
In addition, there is an annual Hosting charge (the charge for 'hiring' the space for your website) of around
£70 per year
, including registering your domain (website) name and occasional small updates (eg changing your address if you move).
Unlike many other website owners and web designers, I don't cut corners on hosting - I use only the best top hosting companies, because I believe that, as website owners, we need our sites up and running 24 hours a day, 7 days a week, with no risk of some fly-by-night company going bust and taking our websites down with them!
Updates
When your website has been completed, approved by you and is live on the web, I am always available - at no charge - for advice and assistance. However, any material updates to text, images or layout on your site will require extra work from me and will, therefore, incur additional charges.
You have two options:
Fully managed service, to include one hour's update work per month -

£470 per year

, payable in advance

Charge per update -

£45 per hour

, minimum charge £25
(As an example, completely replacing two paragraphs of text would probably take around 20 minutes, whilst replacing 3 images would take at least 40 minutes, including testing)

If you have any questions at all, about any or the above, just to email me, or ring me on 01305-871561
my business and design philosophy
My design philosophy - for
web design
and printed marketing material - can be summed up in two words:
simplicity
and
usability
. I rarely use Flash (the complicated 'movies' you see on some websites), but aim to utilise the best of html, dynamic html, javascript and css (stylesheet coding) to create fast-loading, well-written, clean and simple
websites
.
web design comments about www.siteright.tk, one of the sites I've created

"One of the best sites I ever looked at. All because of the pure simplicity of it: it delivers the information you need clearly and accurately in a language anyone can understand. NO hype! NO fluff! NO outrageous promises!"
*
"Site was very easy to follow. Information up front. Easy to read."
*
"I found this site simple and easy to read and navigate around. The use of colour was sparse, and so made you look twice at the places where they occurred (as was its intention). It downloaded quickly and easily."
I spend a lot of time on the Net and know what websites - from a very wide variety of businesses - tend to look like. I design and create websites but, crucially, don't come from a graphic design background - so, as a web designer, I don't have a list of design 'dos' and 'don'ts' in my head. I'm interested in how your site looks and whether it suits your own design ideas and philosophy.
I also have particular expertise in image manipulation - often a weak point with website designers, who seem content to use blurred and muddy-coloured pictures. I always take that extra time and trouble to ensure that all images displayed on the sites I design are of the highest clarity and vibrancy.
Whatever product or service you're selling or presenting, there is no point in having a web presence if your website doesn't show your 'products' to their best advantage.
web design comments about www.vickiclarkart.com, one of the sites I've created

"The paintings at this site are awesome! Everything is crystal clear, and so sharp even when viewing the enlarged graphics. I was pleasantly surprised at how fast everything loaded on my dial-up connection too. Great site"
*
"Everything loaded fast, pictures were clear, navigation was easy. This site had everything it needed and nothing it didn't."
*
"I'm usually not into abstract art, but enjoyed this with the descriptions so I could tell what the paintings were. I liked all the white space and the clean uncluttered design."
*
"Very well designed site. You've definitely made this site user friendly, and kept the eyes focused on the artwork. Altogether a great example of a focused, niche website."
This is where the design of your site comes in.
There's no advantage to you in having a wonderfully-designed bells-and-whistles website which is so relentlessly clever that your visitors can't tell what they're supposed to do or how to get around!&nbsp&nbsp On the other hand, something too basic can make you look like an amateur.
web design comments about www.1-art-1.com, one of the sites I've created
"What a wonderful website, beautifully put together and really easy to use. Very impressive!"
*
"I like this site. I had trouble finding a problem with it. It's to the point, clean and concise and ordering looks easy"
*
"Wow..the graphics on here are fantastic. This website deserves a place on my favorites list"
*
"Really easy to use and conveys the colour and feel of your work well"
*
"Really good to see a proper website - very accessible site with links that work well. I hope it brings in the attention your work deserves. Crackin' site!"
*
"I will be going to [your studio] to see your work as I suspect that the real thing will make more impact than the images. However, the website achieved the goal of interesting me in finding out more"
For a free, no-obligation consultation on just how I can get your new website up there with the best of them, promoting your business 24 hours a day, 7 days a week, just to contact me by email.
That's all for now - but don't hesitate to if you have any questions at all about what I can offer you. And, don't forget, that if you need a website designed or if you need help and advice with an existing site, you need look no further than me!
---


<back to top of this page - web design & creation prices for artists & craftspeople>

website design, text & images © (Dorset web design)


tel:

01305-871561

(outside the UK - +44-1305-871561)

email: